Say I love you this Valentine's Day with these delicious recipes for two!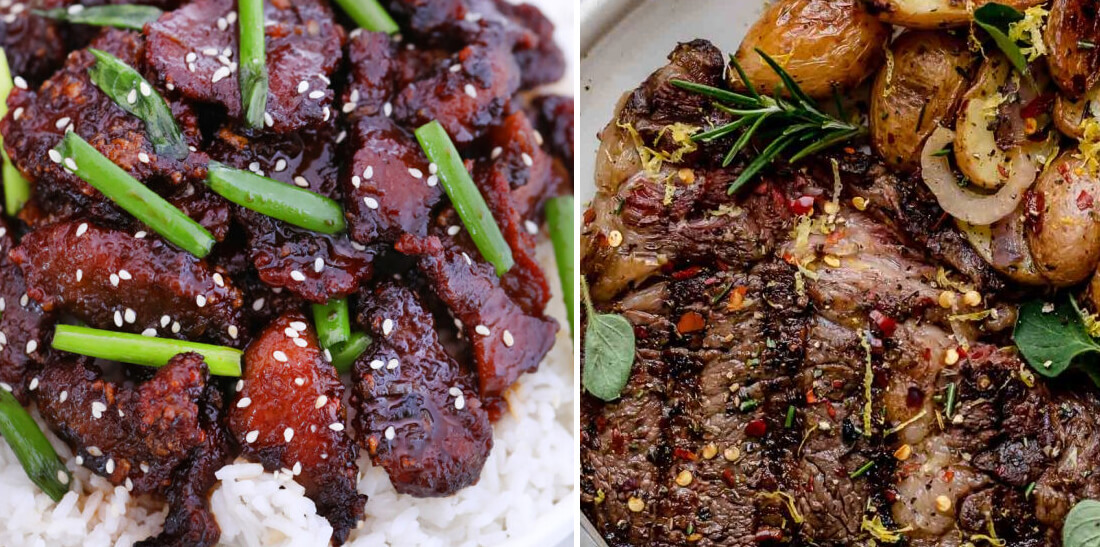 Say I love you this Valentine's Day with these delicious recipes for two!
Try this unique 7 ingredient herb rub Grilled Tuscan steak, with restaurant-quality flavour. Or spice things up with this unforgettable Mongolian Beef Recipe, paired with the elegant and rich flavours of Château d'Anvichar Cotes de Bordeaux.
Mongolian Beef Recipe
INGREDIENTS
1 pound flank steak (thinly sliced across the grain)
1/4 cup cornstarch
1 cup vegetable oil
2 green onions (thinly sliced)

Sauce:
1/2 cup soy sauce
1/2 cup dark brown sugar
1/2 cup water
1 tablespoon garlic (minced)
1 tablespoon fresh ginger (minced)
2 teaspoons vegetable oil

Optional:
INSTRUCTIONS

Prepare the Beef:
1. Add the sliced flank steak to a large bowl and mix with the cornstarch until the cornstarch is evenly distributed.
2. Heat 1 cup of vegetable oil in a large saucepan, once hot add beef and fry until browned and cooked through, about 1-2 minutes. Stir the meat around a little so that it cooks evenly. Transfer beef to a paper towel-lined plate and discard the oil from the skillet.

Make the Sauce:
1. In a medium sauce pan over low/medium heat add two tablespoons of vegetable oil, followed by the garlic and ginger, cook and stir for 30 seconds and whisk in the brown sugar, soy sauce and water. Cook until slightly thickened, about 5-10 minutes, set aside.

Add Beef:
1. Add beef back to the skillet into the sauce mixture and cook over medium heat until sauce thickens, for about 2-3 minutes. Stir in green onions.
2. Garnish with sesame seeds (optional). Serve immediately over rice.
Grilled Tuscan Steak Recipe
INGREDIENTS
2 1-inch thick steaks of choice (ribeye, strip, sirloin, etc.), about 1 1/2 pounds
3 tablespoons olive oil
1 lemon, zested
8 cloves garlic, grated or crushed
4 sprigs fresh rosemary, broken in half
1 tablespoon dried oregano
2 teaspoons crushed red pepper flake
1 teaspoon ground black pepper
2 teaspoons Kosher salt
INSTRUCTIONS

1. Marinate the steaks: Add the steaks to an airtight container or baking dish. Top with the olive oil, garlic, fresh rosemary sprigs, dried oregano, crushed red pepper flake, & ground black pepper. (Do not season the steaks with salt at this point!) Rub the herbs & spices into all surfaces of the steaks. Cover and transfer to the refrigerator. Marinate for at least 12 hours or up to 2 days.
2. Preheat the grill: Prepare your grill for medium heat, about 450 degrees F.
3. Prep the steaks for the grill: About 30 minutes prior to grilling the steaks, pull them out of the refrigerator to let them come up to room temperature. I typically will just pull them out of the fridge right before I preheat the grill. Steak will grill more evenly at room temperature vs cold, so it's important to give it a little time to warm up! Just before tossing them on the grill, use paper towel to pat the steak as dry as you possibly can, then season generously with Kosher salt.
4. Grill the steaks: Place the steak over direct medium heat. Grill 2-3 minutes per side for a nice medium rare. Add an extra 3-4 minutes per side for medium and 4-5 minutes per side for medium-well.
5. Rest and serve: Set the steak aside to rest for 5-10 minutes before slicing and serving. Enjoy!
Pairs well with: