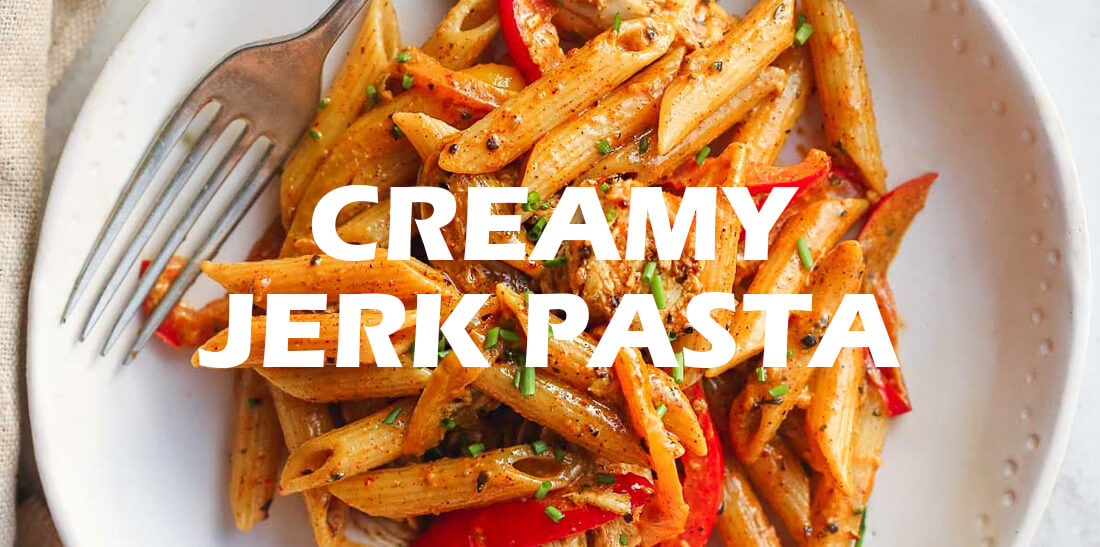 The perfect meal for a night in with friends or that special someone. This Creamy Jerk Pasta had an exciting explosion of Caribbean flavours and spice. A colourful dish, full of texture and life with its delicious creamy texture, crunchy veggies and spicy jerked seasons adds just the right amount of heat! Whip up this easy 30 minute meal tonight and add these unique wines to your table, for the perfect pairing experience!
Servings: 4
INGREDIENTS
1 lb. penne pasta
3 boneless skinless chicken breasts (about 1 1/2 lb.)
4 tbsp. jerk seasoning, divided
Kosher salt
1 1/2 tbsp paprika
1 tbsp black pepper
2 tbsp all purpose seasoning
1 tbsp thyme
2 tbsp. extra-virgin olive oil
1 green bell pepper, sliced
1 red bell pepper, sliced
1 orange bell pepper, sliced
1/2 cup sliced green onions, plus more for garnish
3 cloves garlic, minced
1/4 cup low-sodium chicken broth
1/2 cup heavy cream
1/2 cup freshly grated Parmesan, plus more for garnish
DIRECTIONS

1. Cook pasta according to package instructions to al dente. Drain and set aside. Season chicken breasts all over with 2 tablespoon jerk seasoning, 1 tbsp paprika, 1 tbsp all purpose seasoning and salt. In a large skillet over medium heat, heat 1 tablespoon oil. Cook chicken until golden and no longer pink, 8 minutes per side. Remove from pan and set aside to rest.
2. Add remaining oil and cook peppers until mostly tender, 4 to 5 minutes. Add green onions and garlic and cook until fragrant, 1 minute. Season with remaining jerk seasoning.
3. Add chicken stock and heavy cream and let simmer until thickened, 5 minutes. Slice chicken. Add Parmesan and stir until melted, then add pasta and chicken and toss until completely combined.
4. Garnish with green onions and more Parmesan and serve.